About a year ago, we launched our broadcasting feature, which made it possible for you to share your screen to a handle that you select (i.e., http://www.screenleap.com/your_company). Viewers can view your broadcast simply by going to your broadcast page. When you are not actively broadcasting, your broadcast page serves to welcome your visitors: previously, a visitor would see a generic message; with this update, you can now customize the message that is shown to those visitors.
How It Works
You will need to sign up for a free Screenleap account in order to use the broadcast feature. After signing in to the Screenleap site, you will now see a Customize your broadcast page link. Clicking on this link will show you what visitors to your broadcast page will see when you are not broadcasting.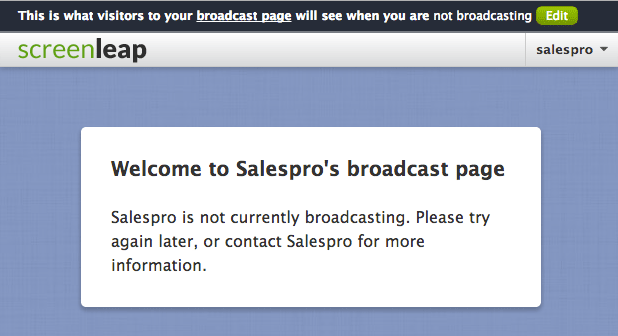 You can customize the message shown to visitors by clicking the Edit button at the top of the page and then on the name or description to update the message.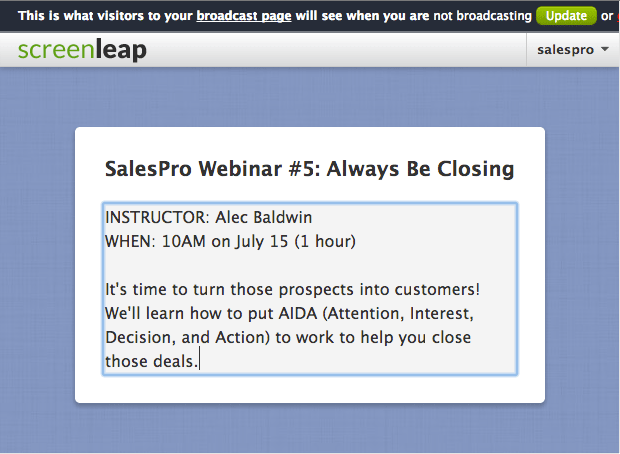 Click the Update button when you are done to save your changes. If you are a user on a Premium Account, you will also have the option of customizing the messages that are shown to visitors when you are in the middle of a restricted or locked broadcast (see next week's blog entry for more details).
Ideas For Use
You can use the broadcast page message to further engage your visitors:
Contact Information – Put your contact info so that your visitors will know how to get in touch when you are not broadcasting.
Simple Meeting Scheduling – After you schedule a presentation, update your broadcast page message with information about the presentation so that viewers who show up early will know that they are in the right place.
Supplementary Materials – Include links to supplementary materials (such as white papers) that your viewers can review after seeing your presentation.
What's Next
Next week, we will cover two additional broadcasting features that we just released: broadcast restriction (the ability to restrict a broadcasts to viewers with an access code that you specify) and broadcast locking (the ability to lock an active broadcast to prevent new viewers from joining).