We are excited to announce that subscribers on our Premium Account can now record their screen shares for later playback.
Enabling Recording
To enable recording, simply sign into your Premium account, click on the "Recordings" link, and then click on the "Enable recording" button.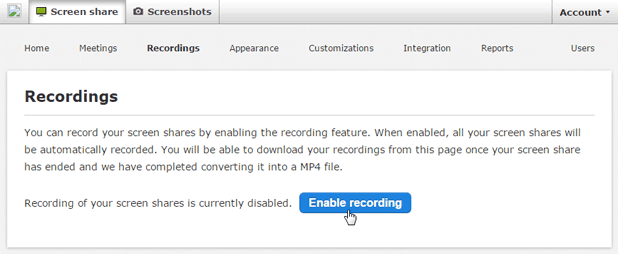 All of your screen shares will now be recorded. Recording will start when your screen share starts.
Recording Processing
When your screen share ends, your recording will be encoded as a MP4 video that you can view or download. It takes some time to process your recording to encode it into a MP4 video. On average, the processing time will be comparable to the duration of the screen share: an hour-long screen share will take about an hour to process.
You can be notified via email when your recording is ready for you to view or download by enabling email notifications from the "Recordings" page.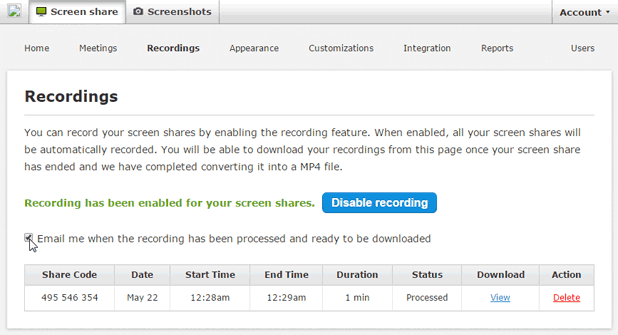 You can view or download your processed recordings from the "Recordings" page. To view your recorded screen share, simply click on the "View" link for the screen share you would like to see. You can download the recording by right-clicking on the "View" link and selecting the "Save video as…" option. Your Premium account includes 50GB of storage space for storing your recordings.
Limitations
Recordings are limited to three hours in duration. The recording feature currently does not support recording of audio. We plan to support audio recording once we add integrated audio support.
Give Recording A Try
We hope you will enjoy the new recording feature! As a reminder, it's only available for Premium subscriptions, so be sure to upgrade to get access to recording, as well as custom branding, SSL encryption, unlimited daily sharing, meeting scheduling, and more. If you would like a free trial of the Premium account, please contact us to get set up.