We are excited to announce the launch of our new integrated audio conference calling solution for you to use while sharing your screen. Using our solution, you can now discuss what you are sharing with your viewers without having to use a separate service.
To use audio conferencing, simply click the Show instructions link underneath the Audio conferencing heading that is shown when your screen is shared. You will be shown a phone number along with a 7-digit access code. To start a conference call, simply call the number listed and enter your 7-digit code followed by the * button. Conference call hosts can access additional commands during their calls. Please take a look at the FAQ for a complete list of available host commands.

You can share your the conference call information with your viewers by clicking the Show audio conference information to viewers button. If you do so, your viewers will be shown the audio conferencing information when they connect. They simply need to dial the number that are shown to them and enter the 7-digit access code followed by the # button.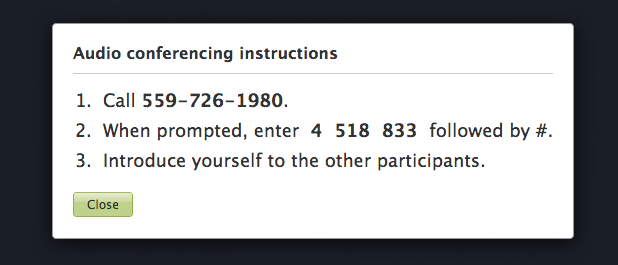 We currently have dial-in numbers for 33 countries. Please beware that the dial-in numbers are not toll-free so there may be long distance charges associated with calling the number that will be reflected in your telephone bill.
Finally, while the audio conferencing feature is in beta, we'll be offering it for free to all users. Eventually, it will only be available on one of the pay plans.