It's been an exciting summer here at Screenleap: we recently launched our Screenleap Apps for Mac and Windows, which will make it even easier for you to share your screen since they do not require Java to be installed. We will be announcing several new improvements in the coming months that will make it even easier for you to share your screen so stay tuned.
New Limitations For Anonymous Screen Shares
In the mean time, we want to make you aware of some upcoming changes to the anonymous screen share feature. An anonymous screen share is a screen share that you start by clicking the "Share your screen now!" button on our site. They are designed to make it easy for you to try out Screenleap and to start a screen share quickly when you are in a hurry. To bring anonymous screen shares in line with their intended usage, we will be limiting them to twenty minutes per day and two viewers starting September 7th.
Benefits of Creating An Account
We want to encourage you to create an account since it allows us to provide you with the best user experience. Signed-in users will continue to be able to share for two hours a day with an unlimited number of viewers.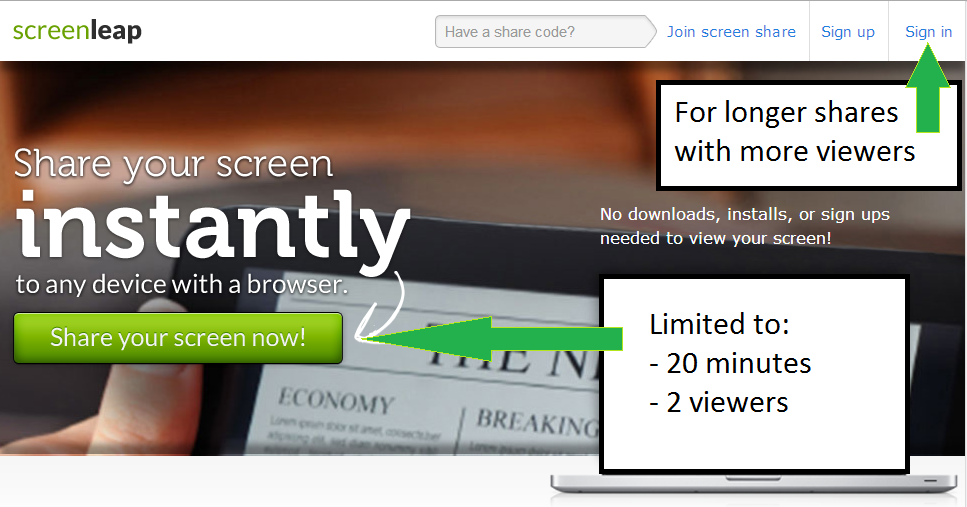 In addition to longer screen shares and high viewer limits, signed-in users will also get access to these additional features:
Personal URL: When you create a Screenleap account, you choose a handle which your viewers can use to view your screen (e.g. http://www.screenleap.com/YourName). No more cryptic codes.
Presenter Swap: Your viewers will see a "Become presenter" button. Use this option when you need to see something that's on your viewer's screen.

Customized Broadcast Page: Customize a message for your viewers. See last month's blog post for more details.
Personal Avatar: Open Account > Settings and Preferences to choose an image to use as your personal avatar. Viewers will see this avatar with your broadcast messages.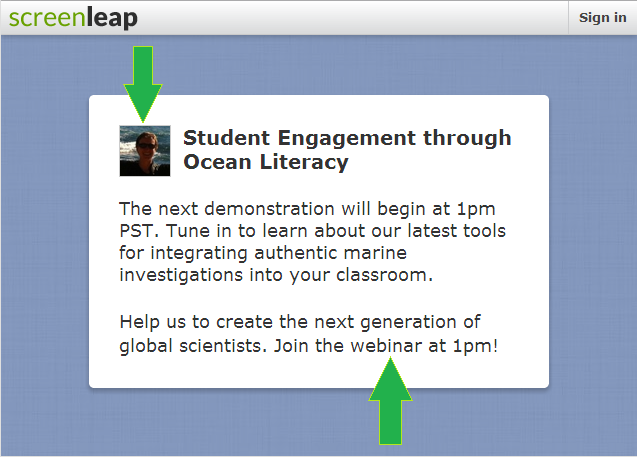 Coming Soon
Chat is coming to Screenleap in September. When you sign in to a free account you will be able to activate a chat box for sharing simple messages with your viewers. Check back soon for more information.