This week we are going to cover two new security features available to Premium Account subscribers: broadcast restriction and broadcast locking. Broadcast restriction allows you to limit access to your screen share
to viewers with an access code that you specify, and broadcast locking allows you to prevent new viewers from joining a screen share that is already in progress.
Broadcast Restriction
When we launched the broadcast feature a year ago, one of the most requested enhancements was the ability to limit who could access a broadcast. With the latest update, it is now possible to require viewers to enter an access code before being allowed to view a broadcast.

You can use access codes to create broadcasts for different groups of people. For example, if you have three broadcasts scheduled (at 11am, 12pm, and 1pm), you could do the following:
Choose a different access code for each time slot.
Send out invitations with a link to your broadcast page along with the corresponding code.
At 11am, enter the access code assigned to your 11am time slot and start your broadcast. Only people with the 11am access code will be able to view it.
At 12am, end your first broadcast and start a new broadcast with the code for the 12pm time slot. Only people with the 12pm access code will be able to view the second broadcast.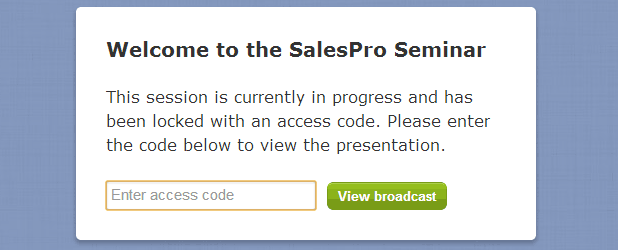 If a broadcast runs over, the viewers for the next broadcast will not be able to gain access until the current broadcast ends. Please sign up for a Premium Account to use the broadcast restriction feature.
Broadcast Locking
In addition to restricting a broadcast with an access code, you can also lock a broadcast to prevent new users from joining. Simply start your broadcast without entering an access code and wait for all your viewers to join. Once your viewers have joined, you can click the Lock broadcast button found in the sharing instructions. No new viewers will be able to view your broadcast unless you unlock it by clicking the Unlock broadcast button.

Please sign up for a Premium Account to use the broadcast lock feature.
Additional Broadcast Page Messages
Subscribers on Premium Accounts will also be able to customize the messages that are shown to visitors when you are in the middle of a restricted or locked broadcast. To customize the additional broadcast page messages, click on the Customize your broadcast page link after signing in. You will be able to select the other broadcast messages from the select box at the top of the broadcast customization page.
Stay Tuned for More
We hope you find the new additions to the broadcast feature useful. Next week, we will preview our new app that allows you to share your screen from a Mac without needing to have Java installed. As always, we would love to hear from you so please share your feedback with us!