We are excited to announce the availability of Branded Company Accounts. Branded Company Accounts allow you to provide your viewers with a branded screen sharing experience for those important sales, support, and training calls.
Sign up for a free trial now »
Branded Screen Sharing
Branded Company Accounts increase your viewers' exposure to your company's brand by keeping your branding in front of them throughout a screen share. We allow you to customize the viewer page to include your company's logo and color scheme. Instead of seeing the logo and color scheme of the screen-sharing product you are using, your viewers will see your company's logo and color scheme—making it more likely that they will remember your company after the presentation.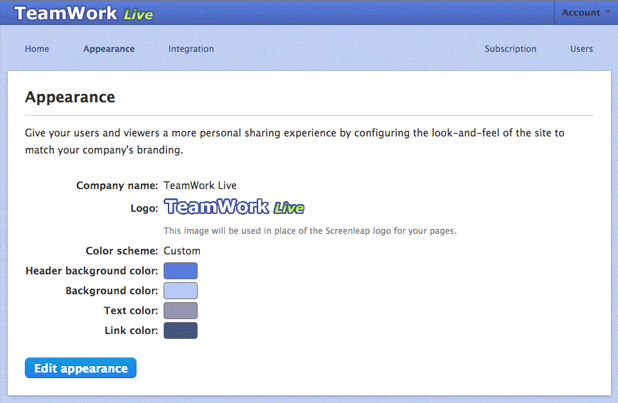 Customizable Screen Sharing Experience
Default Zoom Level for Viewers – The default can be set to either the actual size of the screen being shared or zoomed out so the shared screen fits inside your  viewer's browser window.
Broadcast Scripts – A broadcast is a screen share that can be viewed from your personal URL (e.g., http://www.screenleap.com/your_company). We allow you to create a broadcast script to automate the steps that your broadcast follows so that your presentations can be more effective. You can customize:
the message shown when you're not broadcasting

the message shown when viewers join during your broadcast

the action that is taken at the end of your broadcast
For example, if you are demoing a website or application, you can customize your account so that your viewers are automatically redirected to a sign-up page at the end of the broadcast—instead of having to ask your viewers to go there themselves.
Embedded Viewer For Your Website
Branded Company Accounts also  make it easier to integrate the screen share viewer into your company's website, so your users never have to leave your website to view your screen shares. Integration is a snap: paste our code snippet into your webpage and your viewers will be able to engage with your screen shares right from your website.
Pricing
Branded Company Accounts cost $49/month per user. See list of features available on Branded Company Accounts.
Launch Special
Branded Company Accounts move us a big step towards our goal of making screen sharing a personalized and integrated experience that allows you to maintain your company's brand and messaging throughout your interaction with your viewers. To celebrate the launch, we will be offering a free 30-day trial to anyone who signs up in the next 30 days.
Happy holidays and thank you for your continued support.