We are excited to announce that the Screenleap Chrome extension now supports presenter swap. Previously, only users using the Screenleap for Mac or Screenleap for Windows apps could switch the presenter during a screen share. Now users on Chromebook, Linux, and any operating system that supports the Chrome browser can also take advantage of this useful feature during their screen shares.
Using Presenter Swap
To enable the presenter swap feature, you simply need to sign in before starting your screen share. The viewer who wants to become the new presenter needs to initiate a presenter swap by clicking the "Become presenter" button at the top-right part of the viewer page.
You will be asked if you want to grant the viewer permission to be the new presenter.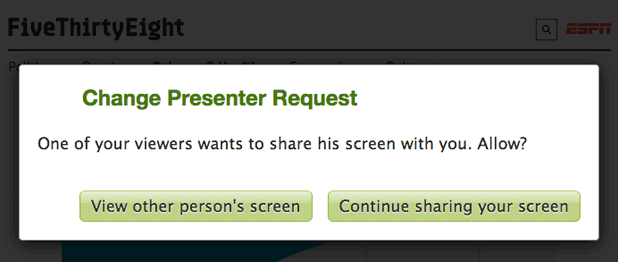 If you say yes, the viewer will start sharing his/her screen and you will be redirected to the viewer page so that you will be able to see his/her screen. Viewers who have not previously shared using Screenleap will be first prompted to download and install the presenter app.
Presenter swap cannot be initiated by the presenter because we do not require viewers to sign in before being able to see your screen. As a result, it is not possible for the presenter to select which viewer he/she wants to be the new presenter.
Tell Us About Your Experience
We hope you find the presenter swap feature useful. You can try out the Screenleap Chrome extension by going to the installation page. If you have any questions or feedback, please don't hesitate to contact us!