At Screenleap, we have a distributed team that is spread across three continents (North America, Europe, and Asia). While we love the benefits of working in a distributed team, it isn't without its challenges—the biggest of which is being able to communicate effectively. In an office, it's really easy to walk over to team members to ask questions and get everyone together for discussions. It is more challenging to do the same, however, when your team members are spread around the world across different time zones.
We have come to rely on a number of online tools to help us overcome the challenges of working in a distributed team. Below we highlight our favorite tools that help us to stay connected and productive.
Slack – Our Virtual Office
Slack is our virtual office. We use Slack to have discussions, brainstorm ideas, share files, and keep everyone on the same page.
You can organize your discussions in Slack using channels. Messages posted to a channel are viewable and searchable by all channel members. In addition to the public channels that you can create, each team member also has a personal channel that can be used for private one-on-one conversations.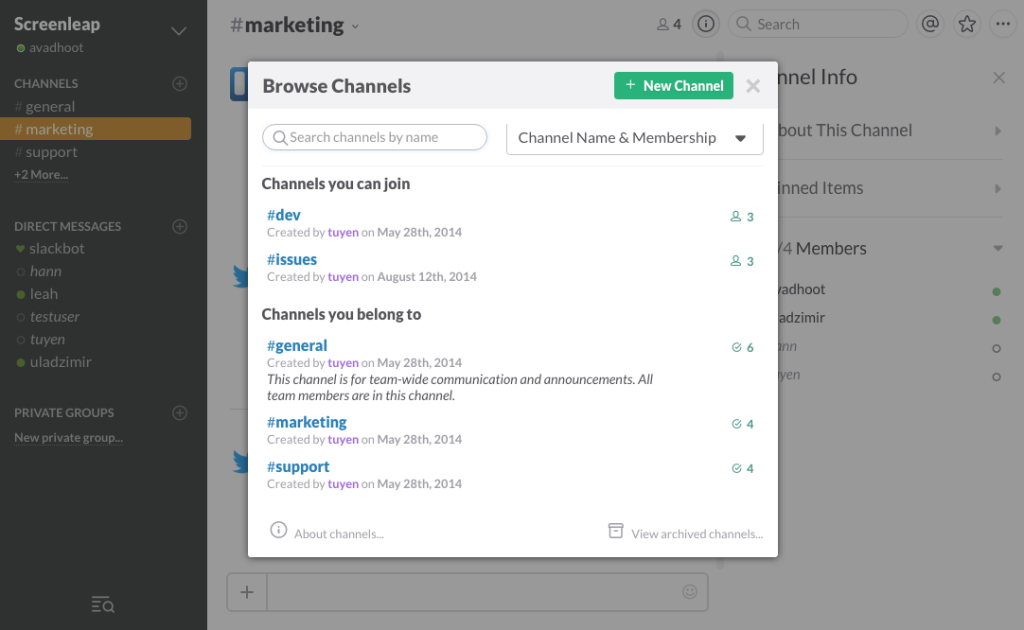 Time Zone Friendly
What we love about Slack is that is has all its little touches that help a distributed team to be more productive. We work in different time zones so it's important to keep track of everyone's time zone, and this is where Slack helps. Slack automatically shows you the local time for each of your team members so you don't have to manually calculate it yourself. This makes it really easy to figure out if team members are likely to be available when they are not currently online on Slack.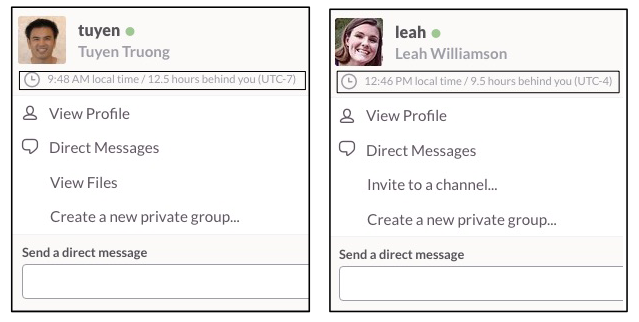 Integrations
Slack supports a large number of integrations. Some integrations allow you to pull in updates from the other tools that you use. We use Slack's integrations to pull the following information from our other tools:
Task updates from Trello (our project management tool)

Mentions and updates from Twitter

Issues and comments from GitHub (our code repository)
Other Slack integrations allow you to add additional functionality. For example, Appear.in allows you to start video chats from Slack. We will be adding a Screenleap integration soon that will allow you to start screen shares directly from Slack. Stay tuned for more details!
Screenleap – Hassle-Free Screen Sharing
Screenleap is a screen-sharing tool that we built. We use it internally to streamline the onboarding of new team members, explain complex ideas (such as reproduction of steps for bugs), and demo features for our users.
We find Screenleap to be invaluable when onboarding new team members remotely. It is much easier to teach a team member how to use a new tool by sharing your screen with them and giving them a quick demo than by trying to explain it to them over the phone or using chat.
A lot of times text chats and even video calls become ineffective when explaining something complex, such as the steps for reproducing a bug. Screenleap is our go-to tool in such scenarios. Explaining complex processes becomes easy when you can see someone's screen so you can guide them step-by-step through it.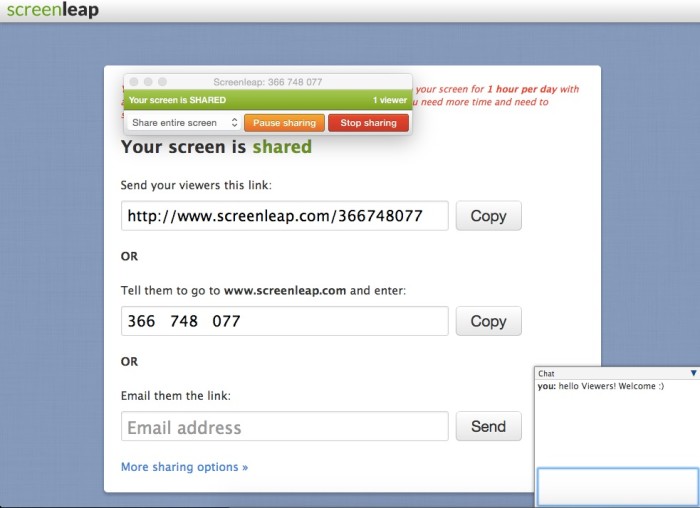 The biggest advantage of using Screenleap is that your viewers do not have to install anything in order to view your screen. They just have to paste the share code or the link that you send to them, and they can see your screen.
Trello – Task and Project Management
Trello is a simple yet a powerful tool that we use to manage our projects. Trello allows you to organize your tasks into boards and lists. You can set up different boards for each department and create private boards for tracking your own tasks. 
Like other project management tools, Trello allows you to add standard information to your tasks, such as team members, due dates, checklists, and attachments.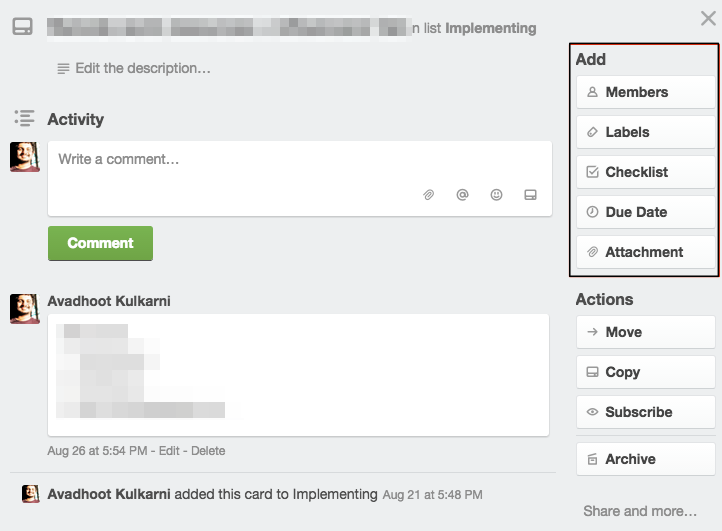 Its polished and responsive drag-and-drop interface is what sets Trello apart from the other project management tools. The interface makes it easy to create workflows and manage tasks that need to go through multiple stages (such as hiring or fundraising). With Trello, updating a task doesn't seem like a chore.
Google Docs – Document Collaboration
We use Google Docs when we need to collaborate on writing anything, from blog articles to contracts. Google Docs allows you to easily invite other people to view your documents, provide feedback, and even make changes directly to them.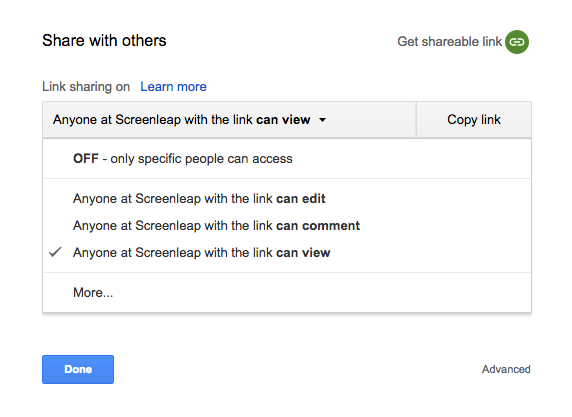 You can check who made which changes and keep track of all the changes. You can even revert to a previous version if you need to.
Streak – CRM and Support
Streak is a CRM tool built on top of Gmail. While Streak is marketed as a CRM tool, you can use it for a bunch of other things as well. We use Streak to provide better support, to manage our hiring pipeline, to schedule demos, and to track potential customers.
Streak has a feature called snippets that we use extensively when we're providing support. Snippets are email templates that can be inserted into emails. We create snippets for our most common support questions and are religious about creating new snippets when we encounter a support question that we have not seen before and refining existing ones to make them clearer.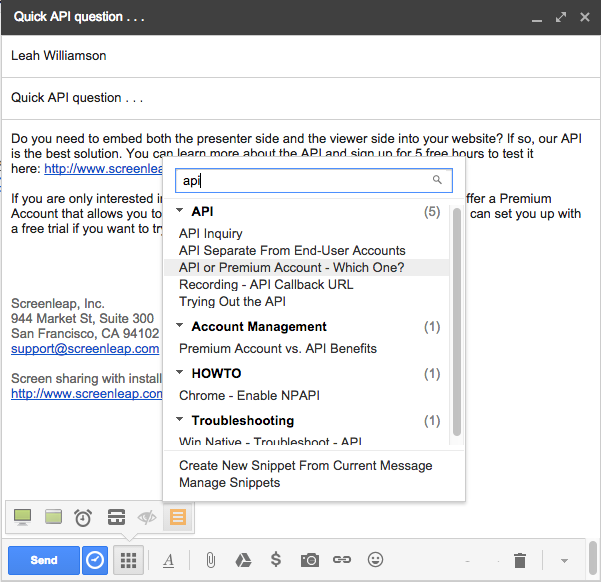 We use Streak's pipeline feature to manage our hiring. The nice thing about using Streak is that it organizes all our discussions with a candidate together so that all relevant information about a candidate is easily accessible (including email, resumes, and comments). Candidates in our hiring pipeline start out at the "Resume" stage and progress through other stages that include "Scheduling Calls", "Interview", "Hired", "Passed", and "Lost".
We use Streak's API to integrate our sign-up system with Gmail. If you request a demo when signing up for a Screenleap account, Streak will automatically create a box for you in our "Demo Requests" pipeline in our Gmail support inbox. Your name will show up at the top of our support box until after we have contacted you and changed your stage to "Contacted".
Streak does too many other things to list completely. Needless to say, we are pretty big fans!
Dropbox – File Sharing
We use Dropbox to store our company documents. It synchronizes all the files in our shared folder across all of our computers. Dropbox ensures that we always have access to the latest files no matter what computer we are on. Dropbox also removes the problem of forgetting to copy the document you are working on from your work computer to your home computer and not being able to work on the document because of it.
You can add team members, share folders and files with team members, or create a simple link to share a particular file or folder for collaboration.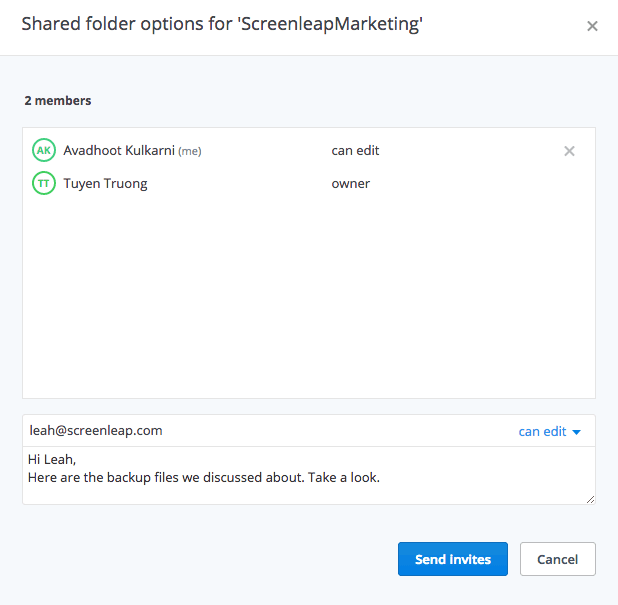 What are your must-have tools?
Having the right online tools is essential to collaborating effectively with a distributed team. They help us to communicate, stay organized, and move the company forward.  I hope this post has given you some insights into the various communication and collaboration tools that we use with our team. We would love to hear more about what tools you find to be most useful for your team.
Share your favorites in the comments!

Latest posts by Avadhoot Kulkarni (see all)