We would like to share with you some recent changes that we have made to our browser extensions:
We have merged the functionality in the Screenleap for Gmail browser extension into the Screenleap browser extension.
Java is no longer required to share your screen with the new Gmail integration. All you need is the browser extension.
All-In-One Extension
You no longer need to install a separate browser extension to integrate Screenleap with Gmail. It has now been added to the Screenleap browser extension. We decided to merge the two extensions together to reduce the confusion caused by having multiple browsers extensions and to make it easier to enhance the extension in the future. The merged Screenleap extension will be the only extension that we support going forward. Please uninstall the Screenleap for Gmail extension if it's installed and install the merged Screenleap extension.
Java No Longer Required
The Screenleap for Gmail extension required that Java be installed in order to share your screen. This requirement created a hassle if you did not have Java installed as you would have to download Java, install it, and restart your browser before you were able to start sharing your screen. With the new Gmail integration, all you need is the browser extension.
How To Use

Install the Screenleap extension and then refresh the Gmail tab. Once installed, two new icons will appear in the bottom of your Gmail compose window. To start a new share from Gmail, simply click on either the screen or browser icon. The screen icon is used to initiate sharing of your entire screen. The browser icon is used to initiate sharing of just your browser window.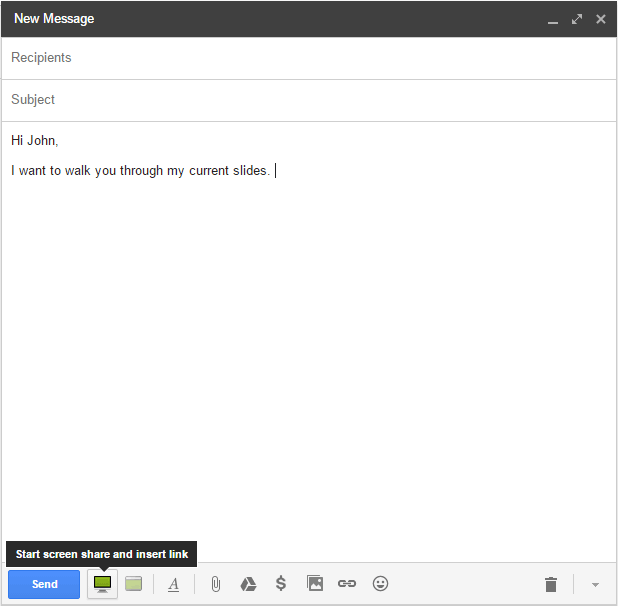 Once your screen is shared, the share link will automatically be inserted into your email message. You can then share the view link with your viewers by emailing them directly from Gmail.
Future Integrations
We will be integrating the Screenleap extension with other tools that you frequently use. Please let us know what integrations you would like to see!

Latest posts by Screenleap (see all)