As you head back to work or school, we want to share with you some recent changes that will make your screen sharing experience even better:
Improved audio conferencing call quality
New default presenter app
HD Audio Conferencing
Our audio conferencing feature has gotten even better: It now features improved audio quality for crystal-clear conference calls. With this change, we are also bringing our audio conferencing feature out of beta so it is only available on our paid plans.
Learn more about our audio conferencing support »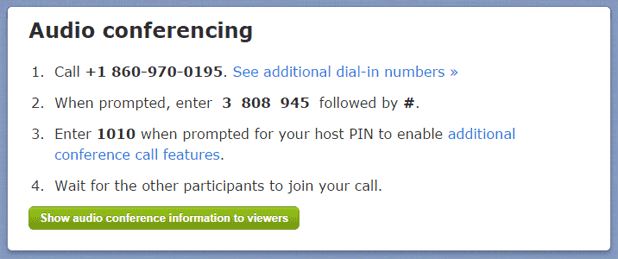 New Default Presenter App
After a long period of testing, we are excited to announce that we are switching the default presenter app on Windows computers from the applet to our Screenleap for Windows app. As we discussed previously, the benefits of our new Screenleap for Windows app is that you no longer have to install Java (or keep it updated) in order to share your screen.
You will need to perform a quick, one-time install the first time you need to share your screen. Your viewers will continue to be able to view from any device without installing any software.
Coming Soon
We are putting the finishing touches on our WebRTC-based implementation of our browser share extension. Users on Chrome or Firefox will soon be able to experience a significant improvement in performance by taking advantage of WebRTC's browser-to-browser connections. Unlike other WebRTC-based screen sharing solutions, Screenleap's solution will also work on browsers that don't support WebRTC (albeit with slightly slower performance).
Thanks again for your continued support!

Latest posts by Screenleap (see all)