We are excited to announce the launch of a long-awaited feature: you can now schedule screen shares in advance using our meetings feature. Previously, you had to start a screen share before you could get the share code and share link needed to share with your viewers. Now, you can send the share links in advance.
To create a meeting, simply click on the Meetings link and then on the Create new meeting button. You can then enter information about the meeting and invite participants to it.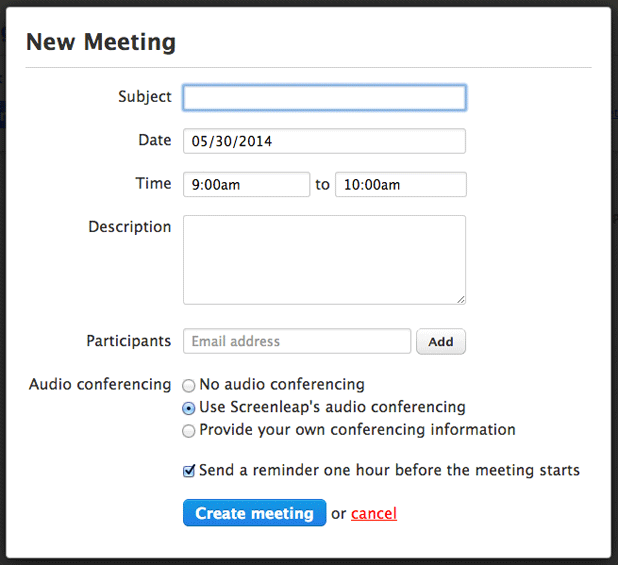 Audio Conferencing Information
You can specify whether you want to omit the audio conferencing information, include information for our audio conferencing service, or provide your own. The audio conferencing information will be included in the email invitations sent to participants.
Meeting Invitations and Reminders
You can also specify whether you want us to automatically email invitations to the meeting participants. The invitations will contain a link that participants can click on to join the meeting. You can also specify whether you would like us to send a reminder to the meeting participants an hour before the meeting starts.

To start a meeting, simply click on the Start button for the meeting.
The scheduled meetings feature is available on our Pro and Premium Accounts. All users with a Screenleap account will be able to try out the meetings feature until June 16 for free. Sign in now to give it a try.
We hope the meetings feature makes it even easier for you to share your screen. Please let us know what you think of it!

Latest posts by Screenleap (see all)