Slack is a popular tool that lets you chat with your team. If you use Slack, you'll be excited to learn that our new integration will make Slack even more useful by allowing your team members to start a screen share directly from within Slack by simply typing "/leap" into any Slack channel.
How It Works
Slack offers a number of commands that you can type into the input box to enable additional functionality. Our integration adds a "/leap" command that you can use to start a screen share directly from within Slack.

You can configure the command by adding additional keywords after the command. Our "/leap" command supports the following keywords:
/leap – Share your browser window to a private URL.
/leap screen – Share your entire screen to a private URL.
/leap broadcast browser – Share your browser window to your personal URL.
/leap broadcast screen – Share your entire screen to your personal URL.
You'll need to use the Chrome web browser in order to share your screen, but your screen share is viewable by anyone using a device with a web browser, including smartphones and tablets.
Once your screen is shared, the share link will be automatically inserted into your current Slack channel. Your team members will be able to view your screen by simply clicking on the share link.
Integration
We have submitted our integration to Slack for inclusion in their list of integrations. Until the integration is officially available on Slack, the administrator for your Slack account will need to configure the integration manually in order to enable it for your team. You can create a custom Slack command by doing the following:
Sign into your Slack account.
Go to your integrations page at Slack (http://my.slack.com/services/new) and scroll down to the "DIY Integrations & Customizations" section at the bottom of the page.
Click on the "View" button for "Slash Commands".
Enter /leap for the command name and click the "Add Slash Command Integration" button.
Enter https://www.screenleap.com/v2/new-slack-share for the URL.
Select POST for the method.
Check the "Show this command in the autocomplete list" checkbox, enter Share your screen with team members for the description, and enter [broadcast] [browser/screen] for the usage hint.
Enter Screenleap Integration for the descriptive label
Click the "Save Integration" button.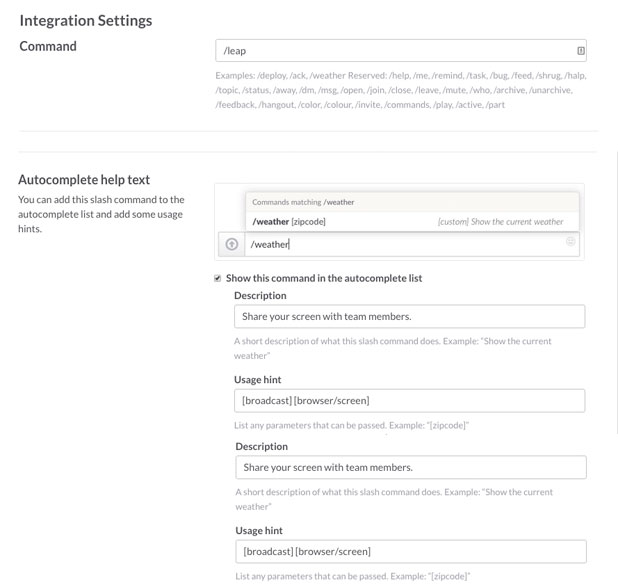 That's it! Now everyone on your team will be able to use the "/leap" command to start a new screen share.
Installation
The first time you use the Screenleap slash command, you'll be shown a link that you can click on to install the Screenleap browser share extension (if it's not already installed).

Click on the link to 1) install the browser extension and 2) create a new account (it's free!) or sign into your existing Screenleap account. The Free Account gives you 1 hour of free sharing per day (2 hours for people in education). Your screen share will automatically start after the installation completes.

As part of the installation, a green screen icon will be added to your Chrome address bar. When you're ready to stop your screen share, simply click on the green screen and then click on the "Stop sharing" button.
Get In Touch
We hope you enjoy the new Slack integration. If you have any questions about the integration or want to learn more about Screenleap, please contact us. We'd love to hear from you!